Zelda reviews: IGN vs. GameSpot
The Legend of Zelda is one of the Nintendo community's (and my) most coveted franchises. With Skyward Sword on the horizon, I'm looking back at the past decade of Zelda reviews, and the critics who score them.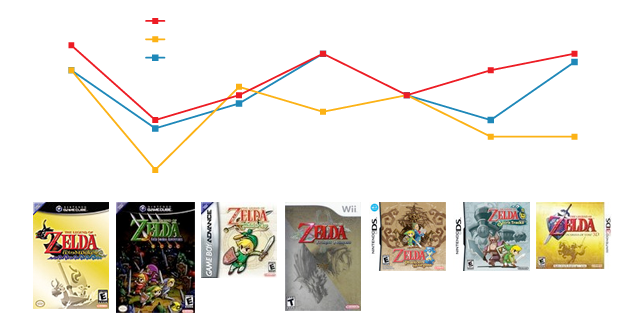 The graph above charts seven Zelda scores from IGN.com and GameSpot.com, plus Metacritic's average of many critical scores. GameSpot has a reputation for being harsh when reviewing games on Nintendo systems, and Zelda is no exception. Their average score for a Zelda title is .3 less than the average critical score. We can argue that their review system is stricter than most, but their scores for XBox-exclusive series Gears of War and Forza Motorsport trend higher than industry average. Is there a bias? I believe so. I've been listening to GameSpot's podcast, The HotSpot, for several years and I hear them openly bash Nintendo systems and games. It's no conspiracy theory; they have taken a stance as the "too cool for Nintendo" kids.
IGN, on the other hand, tends to be much more Nintendo-friendly. Their reviews are equally as thorough, and they go above and beyond to deliver news, previews, and features that Nintendo fans want. Plus, they have a great podcast specifically for Nintendo fans: Nintendo Voice Chat. Have a listen and you'll hear them genuinely excited about all things Nintendo, including a new series dedicated to previewing Skyward Sword.
My point is, as a Nintendo fan, I feel more welcome at IGN than GameSpot. The Legend of Zelda: Skyward Sword
launches on Wii November 20, 2011. My predictions: IGN 9.5, Gamespot 8.5.
UPDATE: IGN has awarded Skyward Sword a perfect 10, along with over a dozen other sites and magazines. GameSpot has given it a lousy 7.5, the lowest score on release day. The critical average is 93, according to Metacritic.